"Misfortune nobly born is good fortune."

– Marcus Aurelius
This year I planned to go through a 50 stoic quotes list one a week, this was supposed to be this week, I didn't look at it until today. But at least I looked at it today… I've become so disorganized, I really hate it. I know I did my best, so I don't regret it, but in the present I hate it. So I'm trying to mentally crawl back onto a schedule. This week has been a phase A if you will, I got onto a schedule successfully, it had 1-4 hours of outside time, I was surprised I could handle it.
It sounds dark, but when I realized it was okay to hate parenting, it became easier. I hate taking the kids swimming, some people advise not to do what you hate… I wouldn't cook any meals then. So, that wouldn't be great for my 1 and 4 year old…
I'm not going to like it, I'm not going to lie about liking it, but I will do my best.
Other moms have "reached out" lately to try to find how they can get me back to not voicing that I don't enjoy free labor to my own offspring, but that only made it more painfully clear. A nice survey done in Texas actually shows it's more common to not enjoy childcare than to enjoy it, so I feel so VALIDATED by the actual data that it's almost like a massage for my soul.
I thought my kids wanted more free time to play, but they actually hate the days the way they ask for and enjoy doing more activities. I felt like I couldn't survive the days when we didn't have activities and I didn't know how I could survive the extra work of more activities, but when we added some back I actually had an easier time and feel a bit better – though not great. I was surprised being outside in the heat didn't make me feel any worse than being inside in the head as long as I had my hat.
Next week looks ridiculous to me in this moment, because it adds an hour of exercise I don't really want to do and an hour of play time with my daughter that I just tried today and I already hate.
We played blocks, it was so so, we played dinosaurs, I hated it (though I like dinosaurs) she kept giving me herbivores and attacking me with carnivores it's so droll and predictable for me. Maybe we can do something else tomorrow… I remember how much I wanted my parents to play with me, very much, yet it still doesn't make playing with my daughter fun. I'd rather "vroom" cars with my son, because he smiles so big, it makes it worth it. I'm almost scared to do something I like with her, that I won't like it anymore…
Schedule for Next Week:
7 Wake Up – Mightier Brain Training
8 Breakfast – Duolingo Language Lesson
9 Teach Music
10 Exercise – Martial Arts
11 Teach School – Math + General
12 Lunch
1 Swim
2 Outside with Son
3 Inside with Son
4 Dinner + Brush
5 Family Video Call
6 Daughter Inside Play
7 Kids with Dad (Write)
8 Settle Down Kids
9 Bedtime
I'm mostly looking forward to a cup of coffee at 7AM and going inside at 3PM. Perhaps we will go on an off scheduled hike because my husband is home tomorrow. But also we will call the dentist and see if they have any openings, it's depressing to me that the kids missed their dentist since it shut for a few months, my son has never been able to go, it seems kind of medieval.
My son just started eating oatmeal, I'm so happy I can make one breakfast instead of two. Making two, feeding one kids, eating, cleaning up, just crushed my soul before 9AM everyday. I hate cooking so much, I don't know if I would like it if I wasn't watching the kids, I don't know if it matters to know since I will continue to have them. If I could choose between someone to cook or someone to clean, I would defiantly rather not cook.
I want to be open minded that maybe I'll like the new schedule, a weird thing I've noticed is I'm not able to accurately predict how I'll enjoy something before trying it.
Next week's stoic quote:
"Until we have begun to go without them, we fail to realize how unnecessary many things are. We've been using them not because we needed them but because we had them."

– Seneca
I almost feel like the opposite resonates with me right now, that having gone without so many things this year I find myself worse off without – access to green space, room to play, slides at the park for the kids, seeing our friends on Sundays in person, traveling to see my father in the summer without the flights being canceled. They are not essential things, but I find my life worse without them regardless of trying to mentally re-frame it or looking at the bright side of staying inside, over and over and over and over. Usually I think about decluttering when I read this quote, but now I think about the freedoms I miss so much, it has driven me about 25% insane to quarantine as much as we have.
My son moved into his own bed this week, it's very… sentimental. I see him a bit more of a tiny tiny 1-year-old man and less of a baby now. When I see him sleeping, he sleeps now like my husband does, in the same posture, throwing the blankets off every night no matter how many times I try to replace them.
It hasn't been what feels like a "good" week for me, but it was an "amazing" week, I amazed myself that I was able to discipline my daughter in a way she likes and accepts (time outs) her defiance was the main problem in our family teamwork (or lack of it) and this is major, but I'm not well enough to appreciate it at all. It's just been so hard won, I have trouble feeling grateful for something I feel like I paid for with a pound of flesh.
Things are changing, my kids are really loving life, that would be enough for many mothers, it isn't for me though.
I want to feel my mind is clear again, I want to have a bit more respect for myself, I want to be a bit more comfortable with that person in the mirror, I want more of the strength and resilience I had ten years ago (is that something possible?), two fingers on my right hand have been going numb lately, I don't know if that is "real nephropathy" or just what it's like to get older, or from being exhausted…
My daughter quit ballet this week, she was looking at me to validate her and I didn't. I don't know if that's something good or bad. I never liked ballet, she did it because she like it, I never pushed her, she was getting better and lost interest, she looked to me to encourage her and I stayed neutral. I'm not sure what the right thing to say would have been, but it's uncomfortable to me that she is changing. I know she will change, but it doesn't have to be comfortable for me… Perhaps since she is really interested in swimming something had to die. It's just a little abrupt the way it was a burning passion one day and yesterday's zip drive the next.
I think we are living our "new normal now" I think masks at stores will be with us for much longer than the original estimates. The first phase was everyone really tense, waiting to see if supplies would be interrupted, the second phase was being told we would be locked down for just a little bit, the third phase is semi-life as normal, half of places shut down, half of people wearing masks, half the thing we do are available, it's half our old life, it's half way enjoyable, it's half way nice, it's half as* freedom.
I wanted to have a peaceful summer in response to not being able to control anything, but my family doesn't really do peaceful, so it's been exhausted redirecting them or exhausted doing activities and I guess I'd rather do activities and be unhappy then try to relax and hate my kids for not resonating with that idea.
You shatter peace, I'm going to teach you multiplication then. Grr.
I guess I'm still struggling to make coronovirus-aid out of these lemons.
I'm noticing that I'm very hostile, very disappointed that I expected a one or two month interruption, which had proven to be part of what may be a permanent change in my world. It may be that I raise my children in a world where we are held responsible for and society adapts to our microbes. Rather than being forced to go to school sick every time I didn't have a fever, it maybe that you don't have a school or job to go to sick. But it's been a Swiss cheese distribution that affects somethings not at all and others extremely.
I don't hate this year, I don't hate myself, I don't hate my kids, I don't even hate public health.
I just lost the things that made life work for me, I lost my martial art's class, I lost my muse (nature) and all the things I've tried to substitute have been paltry and insufficient. I won't be okay until I find something to refill my soul with that works for me.
I'll get by, I've gotten by, but I've always been greedy for more than that.
I hunger for victory over myself, knowing I've come close to whatever the limits of my own personal potential is and I feel like I've never been further away from those things.
I've lost something essential and nameless, I've gained many things that I thought would make my life better, and it has only gotten worse. I don't know if it's motivation, inspiration, I don't know what it is, but it's like life has no color and food has no flavor. It doesn't feel like depression or apathy, but I don't have any word for what it does feel like.
Many writers are saying this is a good opportunity, there is a lesson, yet it's like I can't get the answer, I want to look at the back of the book, but it's an even problem with no answer to check… I would describe it as a difficult transition, since I have no idea what I am transitioning onto… I have little idea of the future that awaits me, which is always true.
Maybe what I lost was the illusion of a future that is knowable, but maybe that's a really essential part of robust sanity, which I seem to have lost somewhere along the way. I still have a modicum of sanity, perhaps average sanity, but it's not where it was when I could take a walk in the woods (which are closed on the weekends). Hopefully tomorrow we will go to the forest and I will come back feeling silly that I ever felt as bothered by the oppression of the urban world as I feel tonight.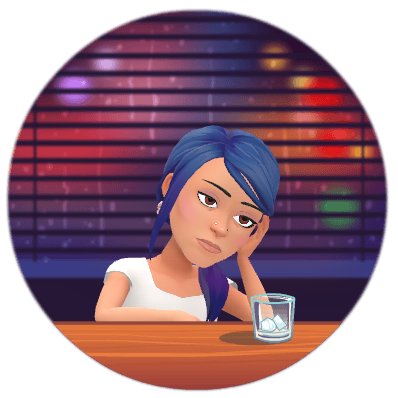 If you're going through hell, keep going.

– Winston Churchill 
This was potty training ethos, but it was never my "overall" parenting ethos before… it really is now. Enjoy every moment is dead and buried, replaced by enjoy whatever real enjoyment comes your way and get through the next two hours.