PHYSICAL TRANSFORMATION
Thinking of mind, body and soul, body has always seemed the easiest for me. I don't why. It obvious allows the rest of life to be easier, but when it's not going well it doesn't define me either. Maybe that's the hidden blessing of being a sickly child? It becomes your standard so that when you return to sickness, you haven't lost anything and health remains a perpetual surprise. It worked that way for me at least. Sometimes I take for granted my health or fitness, in my youth I saw it as will power, but I don't think so anymore. Now I think of it as a blessing that it comes so easily with some minor attention to eating well and fitness.
"Think little of thy flesh: blood, bones, and a skin; a pretty piece of knit and twisted work, consisting of nerves, veins and arteries; think no more of it, than so."

– Marcus Aurelius
I've been feeling stressed by too much childcare off and on and I started exercising about 15 days ago to see if it would help. I think it has helped, but not quite how much I wish it would. I was looking into a way to express how the exercise was going since the pictures always seem to look the same if I take pictures. The only thing I came up with so far is measuring mental toughness in when I wanted to quit.
WEEK 1 T25
Day 1 Speed 1.0 I wanted to quit after 20 minutes.
Day 2 Cardio I wanted to quit after 5 minutes.
Day 3 Total Body Circuit I wanted to quit the whole time.
Day 4 Ab Intervals (didn't feel like quitting).
Day 5 Lower Focus (didn't feel like quitting).
Day 6 Cardio I wanted to quit after 11 minutes.
Day 7 Stretch (didn't feel like quitting).

WEEK 2 T25
Day 8 Cardio I wanted to quit the whole time, minor pain.
1 DAY OFF
Day 9 Total Body Circuit I wanted to quit after 19 minutes. Better! Day 10 Speed 1.0 Day 11 Cardio Day 12 Lower Focus Day 13 Ab Intervals Day 14 Stretch
It's weird looking at the two weeks, a lot of improvement, a lot of pushing past wanting to quit, but also not much satisfaction emotionally. I notice I have more energy, drink less coffee, am a bit more patient, and am stronger, but I guess I'm a bit disappointed that I look the same, I'm a bit disappointed that I'm not much more patient.
Perhaps it speaks to how the brain creates happiness, the brain likes to be surprised, I didn't get any surprising benefits, I got the benefits I expected and I worked for them so they weren't so much gifts as earned, which makes it hard for me to be grateful.
Reviewing my post from last week I can tell the physical benefits were more rewarding to me the first week than they were this week, I guess a pretty big energy difference was a big deal the first week and then the second week I was already taking it for granted.
MENTAL TRANSFORMATION
I'm getting frustrated being at home, it's starting to boil over into a hatred of parenting I don't remember having. I really need to get out to whatever is open, I am confined by multiple factors 1. Partial Closures, 2. Sharing Vehicle (I had a CNG car that broke and no one knew how to fix it, since I was about to have a baby I knew I wouldn't need one for a bit so still don't have a car. 3. Primary Parent; I don't leave my kids unless my husband is home and between work, running and his friends that's minimal. Perhaps none of the three are bad in isolation, but the combination has slowly become intolerable, if I need to go stand outside the front door from 7-8 PM, it's almost at that point that I need to get away more than I need to be anywhere I actually enjoy.
I hate how impatient I am with my daughter, I don't like that it seems like I'm always close to cursing at her. She was eating rice and asking an unwelcome hypothetical question and I told her to shut her mouth and eat. It's not that I feel like I want to answer all her questions, I don't, but it's the way I talked to her over something trivial. I spend so much of the day almost in a rage. If I control myself I go to bed exhausted and if I don't I go to bed guilty, but in the past week I've been less at peace for some reason, I don't really know why yet.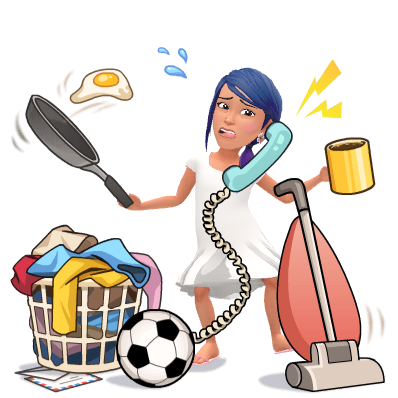 SOUL TRANSFORMATION
Looking back on last week I noticed outside things were getting to me, like my husband, distractions, other people, this week I am seeing it's more internal, but at the same time there is an unease and lack of well being that I haven't fully sorted out yet. Yeah, I'm tired to parenting the way I do, because I would like my husband to take a larger share, but it's been that way for the past 5 years, so what exactly is going on this week that's making me feel less balanced and less able to be patient?
The kind of fitness I care most about is inside you, it's in your mind it's in your heart, and both of those are great places to find strength, because you're in charge there. No body else can tell you what to do, or who you are, or how strong you can be, it's all up to you. Can you screen out the noise in your life and hear what you need to? Can you push away the people that tell you it can't be done and decide for yourself what you can achieve? Can you trust yourself to handle the stress of change? Can yo believe in your ability to succeed now, even if you've fallen short before?

An Invitation to Transformation Shaun T
Listening to T is for Transformation, looking for something relevant to my general malaise.
It stuck out to me:
The only meaningful obstacles are mental.

– Shaun T
Q. What are you hiding from yourself and others?
A. I don't know?
I'm messy (not really true)? I'm impatient (yes, but I admit that)? I don't know what's important to me? I don't know what I really want from life, I'm afraid to know, afraid that I will have to wait until the children grow up and that it will be painful to know and wait?
PERSONAL CORE
👨🏾 <What's important to you?
👩<I don't really know, I just do what seems the best out of what's possible in a given day.
👨🏾 <Who's important to you?
👩<I don't know, I care deeply about humanity and obviously my family, I don't know where the line should be or is drawn.
👨🏾 <What's driving you forward?
👩<I'm always trying, I don't think I can ever give up, as much as some people struggle to try I struggle to take breaks or stop, unfortunately my leadership of where I should go is weaker than my ability to "just keep going."
👨🏾< Life begins at the end of your comfort zone.
👩<Okay I'm there, uncomfortable…
📖 The 7 Superpowers Notes:
Be Uncomfortable (Okay)
Full Out – Enthusiasm – Excitement
Creative
Flexible
Selfish (Possible Problem)
Feeling It – Identify and Feel Passion
Bananas
Thinking more about it:
What's important to you? Pushing myself to try new things like writing and drawing comics. At least trying to find out who I am.
Who's important to you? Educating my kids, but also having something else to do. [Should be me and my husband, but we aren't there.]
What's driving you forward? Curiosity wanting to find out what happens next. Knowing I don't know what will happen. Simple pleasures, coffee, cookies, smiles, the small things.
Is there a gap between what people say should be important to you and what is actually important to you to?