TRUE LIES AND TRUE LIFE
Today I'm going to write two stories and you, the reader, guess which one is true and which is a lie.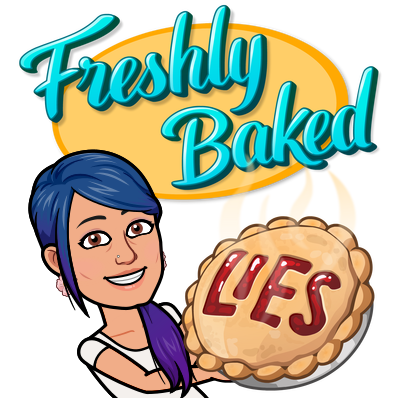 Every once in awhile there are small turning points in life that feel bigger, just having watched Radioactive about Marie Curie (who found 2 elements, the concept of radiation, chemotherapy and led the way for X-rays and atomic weapons and received the Nobel prize), her mother told her a story as a little girl, that she was shifting the entire world in a new direction, but the story ended up being true.
Theme for today horrible things my dad told me:
PROLOGUES
Story 1, In the kitchen having squabbled with my sister my dad told me, "you will die alone, because you are so sharped tongued."
Story 2, In the parking lot me dad told me, "you can't carry that case of soda alone, leave it there and I will get it in a minute."
STORY 1
Story 1, I looked in his eyes, I saw he was dead serious, I heard his quiet tone and noticed he wasn't upset. The person who knew me the longest, my whole life, thought I wasn't fit company for any other human being in the entire world, I was 16, it was scary. I had just started college, after testing out with the state high school equivalency, meaning had I stayed I would have been in the top third of graduates, not the same as a GED (no disrespect to the GED). I was having problems with college, high school level material had a large gap between college level material and it was a bit disquieting to go from the top of my class in the public school I was from to getting Bs for the first time, even with my best effort. The college had thousands of students, almost 100 could attend the big lecture hall where anatomy was taught. No really cared. The councilors tried to help you sketch out an arbitrary class schedule that would lead you to transferring out after an AA degree, but they didn't ask what hoped to do in the world, what you liked, what jobs you were passionate about, why you had chosen the major you had chosen. No one asked, no one cared. Perhaps because of the volume? I was caught in a horrible time when there were four times too many students for the classes available. Rooms were booked solid, for night, for Saturday, even for Sunday, therefore classes just couldn't be added. Construction money was on the way, but it's not immediate, it takes so long that by the time it was done I was already gone.
The only family I had was my father and my younger sister, I don't know what my father was going through, but whatever it was he seldom talked to me at all, so when he told me I would "die alone" I felt a chill come over me. It felt like a curse or a prophesy not a stupid thing, a human mistaken anyone could make.
I just turned away, I always had trouble talking to my dad and this was especially not easy. My dad having kicked me out when I was 14, I moved back because he lived a mile away from the community college, which could be a new start for me.
On the surface I brushed it off. My dad was divorced, he never dated, so what did he know? Not much about making a relationship work. But maybe everything about being alone? I didn't want to believe it, but it haunted me under the surface. Even married people are more likely to die alone than with their spouse happening to be there at that moment. An atheist as most teens are (I think) the thought of death, was frightening, the thought of being alone seemed somehow disgraceful. But it definitely seemed plausible that someday I would die and I would probably be alone at the time. I still have nothing to refute that very well may happen. But where once I set out to never be single, at the cost of not paying better attention in school and not finding my own passions while I was pampering the boyfriends I had who were more than happy to have me watch them have fun practicing guitar without hearing me practice (because I went to slow for them ext).
I can't blame my choices on what my dad said, even though maybe as a child at the time I could attempt to play the blame game, but rather the fact that I allowed his thought to become my thought.
The though of dying alone, the horror of that version of it, which I painted, not as brave, or natural, or human, or transcendent, or mysterious, but as embarrassing, shameful, wrong, a failure, that thought didn't have to become mine just because someone said it. Many things my father said, I never cared one bit about, but that one, lodged in my skull for quite some time, becoming like a best friend who isn't the cheeriest companion.
STORY 2
Story 2, I didn't know what to think at first, I was a pretty strong girl at age 16. I knew I could carry the soda case, after all I worked in a bakery since age 14, and carried 25 and 50 lb (11 and 22 kg) bags of sugar and flour. Growing up I always helped carry the grocery bags in from the car much more than anyone else. I didn't understand why my dad thought I could carry the soda case to the house if he expected me to carry it to put it away when it was in the house, since my mom left the family many little house hold chores were left to me in an unspoken and thankless desperation to have a facade of a normal life when both my father and sister were clinically depressed. 66% of the family being clinically depressed, doesn't make for the most "funtastic" family, but I never gave up trying to do what seemed like my part to make things "semi-approaching" functional.
I didn't even say anything, I wondered why he said it, but I didn't have the words to say nicely "are you blind to who has always carried everything in our family dad?" Still don't. And the rule was, "if you don't have something nice to say, don't say anything at all." So I didn't. I didn't say anything a lot.
I hated how my dad always made it clear he wanted a son and not a daughter. I never told him I wanted a brave dad and not a coward, a generous dad and not a cheap one, a happy dad, not one with clinical anxiety and depression. I never as a child, judged my dad, he was just cool, if he was too shy to buy something at a store or make a phone call, that was just because it was hard. I didn't judge him the harsh way he judged me. It wasn't fair. I remember starting kindergarten and boys said video games were not for girls, I remember thinking I was glad my dad didn't think that way. I remember elevating him to a pedestal of not-sexist. But one day I realized it was miss attributed. We were at the hardware store, buying some rope for a school project, and we both saw a really cool toy train set on sale. It was green, not super fancy, but really cool, somewhere in between the classic metal ones and the modern ones. He said "I wish I could get it, but it's only for boys." This time I actually did say something, which was hard. I said "I like trains a lot." It was as if I hadn't said anything. I think he just repeated that it was a nice train set for a boy. This was the 1990s, a time when gender equality was mythologically a thing of the past, but actually ever present.
As time went on I saw the man I thought was on my side push me away more and more as I grew older. My dad always has loved babies and children, but doesn't extend that love to women. So, maybe some people would have seen it coming for us to grow apart, but I didn't.
It was awkward going through puberty with a just a dad, my dad always bought me enough pads and shied away from having real conversations about anything sexual. Which is what it is. I don't know that I would want to have those conversations with dad. I don't know if I would want to have had them with my mom either… who was very typical of drug abuser in the way she got pregnant about a dozen times I can remember, and had abortions, miscarriages and children with many fathers seemingly more frequently than I got new shoes. Which people seemed to look down on, which would have been fine with me, if it didn't somehow seem to reflect poorly on me, without me being culpable in any way I'm aware of. That has always taught me not to blame the child for the parent.
I didn't think my dad's views about women being somehow not suited for certain parts of life affected me, but lately I'm starting to see how they did. I've just started investing, after a life time of shunning money. My dad was always very negative about my mother over spending, so somehow without knowing it I never learned about money, finances, business or investment, like the train that wasn't "for girls" stocks were a part of our family, but only "for boys." I didn't realize I felt that way until I started investing in stocks and now I'm surprised I was so narrow minded about it in the past. You never know what you don't know… I still haven't bought myself "the train" for me, but my daughter has had three sets of trains in my over compensation. Someday I will get a train track that goes around the top of the walls at home Mr. Roger style, someday…
Anyways, love to see which one you think is the "true lie" and which is "true life" and which you liked better (if any…)!
P.S. My cursor is now a banana instead of an arrow (at least on my Google Chrome browser pages) if you are interested it's free Custom-Cursor.com and they have a lot more options than bananas! 🍌