Recently I've hit a strange plateau, I keep writing but not publishing.
I went to a writer's meeting with one poem and three really interesting books being written, some had been in progress for 20 years, but they were all really interesting and decently cohesive at this point. It was kind of crushing to see how other people operate, they just seemed to be able to write so well.
I was guessing I would move from scatter brained to cohesive someday, but I never really understood exactly how it would happen.
The poem was awesome though, three wonderful and long novels which were all my time of books so it was interesting to go "back stage" and see them being written, but also the poem really lifted my spirits, it was about being the captain of your own soul, my 1st rule of our family is "be the captain," I hope to be able to link to that poem someday, but as far as I know it's unpublished, it was "an epiphany" to the writer on the day of the writers meeting, it was similar to the one I had that drives me to write here and strive in the average day to do just a little bit extra in life towards lifting someone's spirits (my own or others) or taking a small moment to appreciate the beauty of the little things in life.
I left the meeting wanting to write my novel as well as articles, I kept thinking how is it possible to not have writer's block for the one, but not the other, and I ended up having to have writer's block for both I guess.
In the past I've read a lot of witty things about writer's block, that you simply can just sit down and work to cure it… but having read all those things, and having had a solid year without writer's block, it still returned to me so strongly this past week.
I now have 28 drafts on WordPress, at first it was 1 – a draft about romance, how to fix it, I started writing it thinking I would fix my marriage and explain how… step 1 never happened, thus all I have to explain is how to not fix a marriage, most of the other 27 were written this past week or two.
When I have writer's block I seem to explode with ideas, and even to write, but I usually throw away the "balled up papers of writing," this time I didn't, but nor did I publish them.
Someday I think I'll read those articles and decide to finish or delete them, my husband thinks they will be the best ones for whatever reason. I'm not sure.
I didn't notice them being better, or worse as I wrote them, I was a bit more inspired to write, as honest as always, as clear as always, but what made me not publish them had a lot more to do about me than the articles. I didn't feel secure in myself at all, so even my articles, which tend to be somewhere from fine to great (depending on taste), even pressing the "Publish Button" was out of reach.
As of yet not one person has ever criticized me on my blog, other than perhaps me, the one critic who may complain to me if I do hit the "Publish Button" is probably myself.
I've written and thrown out entire novels, without ever showing them to anyone, it's an interesting dilemma to be in, some writers decide not to sit down and write, I so enjoy writing that I do sit down and write, but then due to a lack of confidence to let my writing exist, to allow myself to hope I am enough for it to be enough, to prevent using courage and hope I don't possess (on credit) I destroy or don't publish what I have.
I have never gone through such a short writer's block, I find it encouraging that my cycles are getting faster.
When I was first married, my husband and I would fight over a two week period, perhaps being mean for 4 days, being sulky for a week, him apologizing for 1 day, me thinking about it for 1 day, then me apologizing the last day. Five years later it happens in an hour or two, 20 minutes of fighting, us realizing it's not worth it to fight, double the fight time in sulking, we now both apologize one after the other and hug it out. Problems very rarely get fixed in either case but the old way took a lot more away from life, headaches during work the days we were fighting, stress, hating someone for a few days only to decide to go on living with them a few days later. He doesn't like to do things my way, I don't like to do things his way, we lack an "our way" and yet we want to stay together, we have achieved a peaceful, albeit it somewhat mediocre status quo over time.
When I have been writing, I think I'm a lot easier to live with, I feel better about myself, though my writing hasn't done anything important to my husband's metric (ie make money, be famous), it has done so many important things to my metric (sometimes help others, often help me, produce clarity in a murky world, produce emotional healing to some of the scars I carry in my heart, give me something adult to do in a life of child care, keep my mind as sharp "as ever", give me fun, give me something to look forward to, help me balance my life, help me brainstorm new ideas, help me get to know myself, help me find my voice and values as an individual, even help me make peace with God or the idea of God).
I should acknowledge that my husband supports me in a way as a writer, he encourages me to write, he says my writing is good and funny, I just wish that that was enough for him. He is always hoping that if I keep going there will be a pot of gold at the end of the rainbow, but I want to chase the rainbow for the rainbow itself.
I don't want to be a cash cow, I just want to be a cow.
I'm not lazy, I'm not too idealistic to know we need some money to eat, but I've suffered so much at my own hands by over-prioritizing money over a life span.
I learned how much it didn't matter, not because I'm smart or enlightened, but in a rare moment of pain and insight.
I had an epiphany Friday November 17th 2017:
I had been working "too much" since I turned 18 and even before. At 13 I worked at a doughnut shop, otherwise I don't know what I would have done with myself as I was homeless at times when my bipolar mother got beaten by her significant other she would try to hit me and because I stopped her, she kicked me out. After some time to cool off she would let me back. It may sound weird to have a child working in the US, but the job was very adventurous to me overall. I learned so much more working than I had in public school, where I was already ahead, then when I went to college I tested above normal in English and at a low level in math, but I don't think I would have tested higher in math had I not worked.
My childhood in 6 words = a 16 year long shit show. (I started college at 16)
There were three big problems with math, one anxiety about math, two I was so behind in fractions I needed to go all the way back and the class never did that, and third I thought math wasn't important (which is crazy since I was interested in living successfully in a capitalist society as well as science such as physics which both rely heavily on math).
Later in college I went all the back to the beginning and learned math decently well, even becoming a math tutor. In a way math really beings when you stop believing it's bullshit that you hate, but not before.
I worked as a child, I worked as an adult, at 18 I again lived with my dad, I felt so afraid that he would ever have to pay to support me, ashamed at that idea, I would have done better in college without the full time graveyard shift I got, but I would have had to rely on someone else, and I thought I could get all the way through a perfect life without ever needed to do "that" (rely on someone else for help).
At 21 I got an ambulance job working 72 hours on a normal week and 126 hours on messed up weeks when the company "needed someone" because they were "short handed". In reality they always needed someone, because they made more money hiring not enough workers and driving the ones they had too hard, that means less benefit pay, less training pay, lower wages over all. Like a "going out of business sale" that never ends my company was always "short handed" and I didn't know how to say no even if I understood it was by their own choosing they were short handed.
I remember one day being hired, the owner of the companies were talking with one another in the office, they said they didn't have a spot, but were just waiting to fire someone and were very happy to hire me to be able to do it. I didn't know much about the person, but it gave me a sense of the way things worked, owners used workers like dish sponges, replacing them when they could.
I lived working at the lowest wage jobs as many hours of possible, saving very little that I could have and wondering why I never got ahead.
I met my husband, love at first sight more or less, extreme happiness for 2 years, misery for 5, mild irritation for 2. Never lost hope that we will be happy again "someday".
I worked until my water broke, two weeks after my first baby I worked (with the baby), I worked without thinking much about it until my daughter was about 2.
Other kids went to story time at the library, we got off work at 5 or 6 PM, all the kids stuff was over by then. Years would pass where I forgot to take off Chinese New Years for the parade, I didn't make it to the beach 20 minutes away from where we lived, as I worked life passed by.
My husband spent the extra money on a truck he didn't need for work, we both wasted money, but the truck consumed all my earnings, the truck I didn't want. I told him, he didn't care much, he cares some for me, but not so much for my opinion on how he lives his life, I think outside of movies a lot of husband's are like that.
It was my day off one day, I took my daughter on a walk to the college, no rush (during the week days we were out by 6:15 headed for an hour in traffic), I took her to the snack store, let her look at every treat and decide, she picked her very first ice cream sandwich, we went outside and she starting eating it, it was a beautiful moment of peace in a usually frantic life.
Then I got a text message from work, they didn't schedule me, but they thought they had and were already waiting for me, I said I would come in, I rushed my daughter home making her cry as I cleaned her messy face in a rush I had promised her wouldn't happen "today," as I realized what had happened, I realized who I was (not a bad person, but someone I hated, someone I had never wanted to be, someone I didn't want to be anymore).
I was the same too busy to live, promise breaking parent that I had always wanted to never be.
I had become the enemy of who I was and who I wanted to be. I realized how much I was at odds with myself.
And I wanted so badly to get out.
I didn't quit my job that day, but I did start making an exit plan, I didn't become a good mom that day, but I promised my daughter I would try my best, and that when I could we would do those things other kids got to do (story time ext).
I think it took 4 months from then to quit, I got pregnant with our next and last baby (two for us) and went through a rough pregnancy being pretty impatient and nauseated all the time, then my son was born and my daughter was cast aside a bit, because that's the reality, I don't hold them both at the same time, the oldest feels cast aside, because to some extent they are cast aside… then it was rough finding our was as a family of 4 and the day before my son turned 1, COVID. His birthday was the day after the lock down hit our area.
The low point of my life so far has been watching my daughter cry as I wash ice cream off her face to rush to work again, like we always did, but with the awareness of what I was doing.
There were many bad times, perhaps if I got into details some people would cry at some of the things that were done to me as a child, but they don't get to me much. To me the things I do wrong, are the things that get to me. I can wash away everything that isn't my fault like temporary marker, but the things I've done against my own soul don't wash away.
I want to use the word Steve McSwain used in the "Enoch Factor" to describe the moment I had with the ice cream sandwich, but I'll have to look it up, I can't remember it at all…
But it was essentially two moments of awareness in a mostly unaware, survival mentality kind of life, 1. This is what life should be, supporting my child, in a moment of peace and joy from time to time. 2. I am living a life I hate against everything I want for no reason.
We didn't need the money I made, my husband wanted it, but we didn't need it, which is lucky and not everyone has that, I'm grateful I can be at home with my kids, I was scared my husband wouldn't like me if I didn't earn money, but at the time he hated me so much for not being the wife and mother he wanted and being the wife and mother I am that it didn't even make our marriage worse at all… in a way that bad marital satisfaction was very free, I couldn't loose our marital happiness, which we didn't have.
My life may not look so different to anyone, but it's finally at least in part "my life" that feels a whole lot different.
Yesterday I was chatting with my sister, telling her I breathe honestly. She didn't think it was a thing, it totally is. I just did it again.
If you hate your job and you lied in the interview about "why you wanted it" when you never wanted it, if you get a belly ache to head to work everyday, if you get tired of smiling empty smiles to not seem gloomy because you can't remember the last real smile, if years go by without you really doing even 1 major thing that you enjoy (like seeing the beach, going to a parade, growing a tomato) and you always think someday you will start living, but it keeps not happening, when you stop doing those things, you start breathing honestly and it feels amazing.
I've never been the same person since the pain of the ice cream sandwich face cleaning, broken promises, incident, that pain was enough to move me out of a life time of living on auto pilot, that pain woke my soul up and sent me on a journey to try to live my best life rather then the expected one.
I welcome pain, sometimes I have more than I would have wanted, but in general, I welcome it, as it has given me most of the treasures of my life.
For me pain is the key that opens the closed doors, pain is the spark that lights the fire which keeps me alive during a cold night, pain lights the candle in a dark hallway, pain removes the splinters before they become lingering infections, pain is the mirror that shows me who I've become, pain helps me remember what matters, pain cuts through illusions of what can't be true no matter who says it's true, pain is the sword of truth in my life, the slap in the face that wakes me up before I fall off a cliff playing Pokemon Go, pain has been the Bonnie to my Clyde and I can't imagine who I would be without it.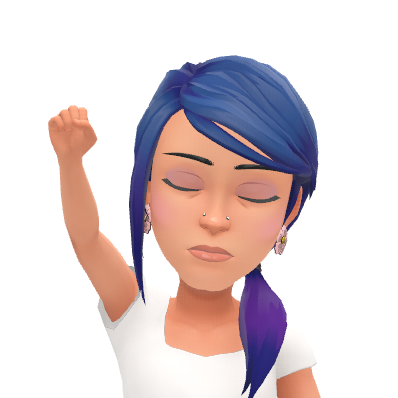 No one will ever free you, until you free your own mind, you can't go anywhere new tied down to the expectations of others, you should cut the tethers to the past and return there by choice, but return freely, by choice, not as a slave to your fears of what is expected from you.
🗡️