I really do like the mornings, I like coffee and quiet, the approaching dawn.
I like the mornings, but so do my kids, they wake up before 7 AM and my son cries if I'm not near him from 6 to 7…
It won't be forever, but it is right now.
So perhaps I can write at night?
Though I want the Immanual Kant schedule, maybe I can do the Jerry Jenkin's schedule?
I did a web class with Jerry Jenkins, he said if you are busy caring for kids or family, it might not be the right time to write.
I love and hate that.
I love that it's okay to put my family first and not be able to do everything, but I hate anyone suggesting that I don't try to do whatever it is I'm trying to do.
I went to a really cool writer's meet up, with four other writers who were so cool and welcoming. They were very productive as well, I want to get there, to where they are, it's scary, but I want to try. Some have been working on novels for 20 years, which have deep and quirky characters and interesting, fast paced plots, and so much wit.
I kind of feel out of my depth with them, they are where I want to be in writing, their books are on par with normal books, good interesting books.
I feel a bit like a home cook trying to mingle with chefs, but I've often been the dumbest one in my study group… in college I made it a point to try to make the best student my study partner, they rarely resented it, even though I rarely helped solve half the harder work, it seems like the company and motivation to get the homework done was enough to equal out the help they gave me, even if I they did take some extra time to break down the basic calculations for me in physics.
One of those smartest student is still one of my few good friends, it started with me being bad at physics, especially derivatives for vectors, and it just never stopped. I owe a few good friends to my own stupidity I guess I could say.
So, it's night.
Lately I haven't slept as well, I've been sleeping late with a cough that I think is mostly gone.
This is perhaps a great time to start a night writing habit.
It's going well tonight, I'll write in the quiet of darkness, with the crickets singing (the males at least), I'll write with my family sleeping in the next room over, so the click clack of the keyboard doesn't bother them.
I'll write "morning pages" at night, or homework for my first writer's group, or perhaps the novel for my second. I will write something in the time from when the kids sleep, until I sleep. If I sleep that's fine, but if I stay awake, I will write and not check email ext (I do that in the morning typically). If I am awake I will Stephen King it and work through the insomnia.
The kids and I got sick, I rested, and the rest became a reset, but as I reset I wondered, what should I go back to doing?
Some of what I was doing was very worth it, moving school outside, learning to cook, perhaps everything, yet I just don't have more energy. So that, if I really want to work on a novel, and I think I do want to, than it requires that I have to save energy from somewhere.
I think I know from where.
It's just hard, it's hard to let go, it's hard to accept I have more time than energy, but that's how it is. I have a few more hours of the day than I do mental energy with which to use it "productively".
I've driven myself pretty hard this year, filling in for my husband, working out a better life, a better school system, better family rules, a better team structure for the family, yet it's taken a toll.
The Higgs Bosom particles, little particles smaller than an atom found in CERNs super collider, they can borrow from the future. If they need to go faster to break out of an area, they can go faster than they were going and then pay back the energy later, they take a pay day loan of energy from themselves.
So much of quantum mechanics has always matched how it feels like life works.
It's kind of intuitive, not if you think of particles as objects, but if you think of them as beings or individuals. Aren't we drained by Wednesday, but borrow from the weekend so that Saturday and Sunday we don't have any vigor left? Doesn't the work on Monday steal energy from Sunday just because we know it's coming up?
I want to write hard scifi, I'm already started on a novel about a ship captain who doesn't like her job and wants to quit, she does quit in the second book, but I haven't spend nearly any time at all on the book lately.
At first I had to decided if writing scifi was what I wanted to do. And I feel like it is, for better or worse I have diverse interest and like many types of books and even types of creativity (art and writing).
But I think I was lost in scifi the best as a girl, The Princess of Mars, from a large box of scifi books someone was giving away, really captured my imagination. It had an outsider protagonist, which I've always been, and a strong warrior female who was also smart, which I would argue that I've always been as well, so it would have been almost impossible for me not to fall in love with that book.
I've loved The Forever War, I think that's a good first Scifi book for anyone who has never read it, the beauty of Scifi, I think, is in being exotic and mundane at the same time. The relatebility of human nature combined with the limitless possibilities of what could have been or could be.
Clone, was a really good one, I'll never forget that one, I stood in the library aisles, smelling the book smell, and sad that I would never read all the books (a realization that was new to me, having come from a smaller town with a smaller library, where I did read all the books in my sections) I was still hopeful to grab another good book and enter a new world.
My real life wasn't so great I didn't want to escape… and escape I did, there is a time for mindfulness, but also a time for a free and unpained soul.
I recently rewatched "the Never Ending Story" and "Never Ending Story 2," beloved from my childhood, with my daughter. We both want the luck dragon Falcor, she liked the horse Artax more than me, but I noticed this time how much I didn't understand as a child.
In the second movie they explain that books change when you read them again, for me they seldom did, because I read them back to back (for lack of new books). I hadn't changed, so therefore my understanding and my views hadn't changed, but finally enough time had passed that I saw "the Never Ending Story as an adult."
It's a beautiful story, that we are all a part of the story of mankind, that a world of our hopes and dreams and imaginations lives somewhere "a literary world".
Since the internet has gone from a university side project, to an essential of survival, I wondered along with other writers if books would die, but I don't think they will. They may change to digital only, they may shorten, but I don't think they will die.
I think a new wonderful time for books is dawning when the unspoken voices are given freedom to speak, I don't see this as the end, but the beginning of a freer era of books. It may not be everyone who reads books, but those who want to will, those living now and also those in every part of the future of humanity, I believe it will be much easier to keep books in digital form and that one generation of librarian will pass the torch to the next. Some books will be lost, but most of the great one's won't. Most stories and ideas worth telling are told many times, but each voice does so in a different tone, with a different tambor, a different beauty, a different flavor.
To me it is worth it to write a book, to push myself from what I have always been, a reader, to something new, an author.
Even if I go back to the way I was before, I believe there is a lot to learn about myself in the process.
I've always had the problem with math that I struggle a lot where I am told to struggle, in the class I am in, but when I get to the next class I can easily understand the one before it, so I wonder why couldn't I just easily understand during the class?
Perhaps the ideas were too new? Perhaps I didn't believe in myself? Perhaps my tools were too weak?
My mind was never weak, I was never horrible, but I just don't know what I don't know.
And I think I'll never know what I don't know.
So as I try to write at night, try to write a novel, I think I will learn a lot about myself, but I know that I don't know if I will or if I do if it will be worth it and if it is or isn't worth it what I'll find out.
It becomes an exploration of my soul, my capacity for words and the courage to face the fear of being the worst writer of my group or of all time.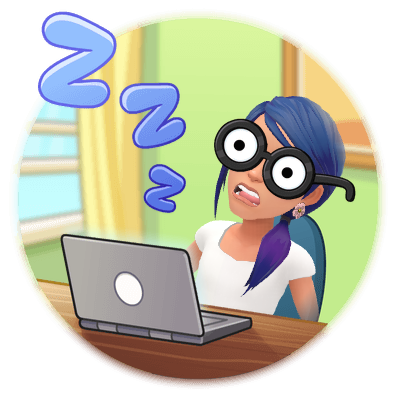 Thank you for joining me, I wanted to conclude the transformation series, but I found that I wanted to justify myself to myself in what I am doing writing at night or writing a novel at all, so perhaps tomorrow night I will end the transformation series I had been writing as I feel as one chapter of life has ended and a new one has begun.
🦉