This year my computer is running Galliumos OS, which is an upgrade of the same system.
My husband decided to move out of the house where both my children were born, financially and logistically smart, but emotionally it's different never returning there again in the same way.
I am living in Hawaii rather than back and forth because it's in better shape than the area in California where we did live back and forth.
The kids are apart from their dad more, but it's a better school system, child support system, life style overall.
Looking at my journal from last year it's easy to see a huge difference in life style,in 2020 on the 1st I was looking at things I wanted to write and reflect on, the 4th I went to the mall (now closed) for $6 dresses I loved, I went to RIE a class for babies to play with other babies for my son (now closed), I went to the Discovery Cube Science Center for my daughter, two floors of fun science displays and toys to play with for kids (now closed), I went to a personal favorite place the Ikea restaurant (now closed), and I taught MMA (now over).
All that in the first 5 days of the year. And this year… none of those things are back, some will never be back for me. I didn't grieve them, because I thought it was a pause, but the pause became a death or so it seems, a long cryo sleep possibly? More than a hibernation, because it's been almost four seasons, much more than one.
Civilization the way I knew it is on break.
It's hard to know if it will come back the same way.
In Long Beach there was once a half circle shaped pier, there was once a roller coaster, constant live music, before I was born. I was born in Long Beach, much later. If I hadn't read the signs I wouldn't have known what the city once had been like.
I don't think life will spring back into the shape it was only a year ago, I don't know if that is good or bad, or mistaken, but I don't think it will unpause, I think changes are happening more than a break.
What hurts the most is the martial art's class I taught gone, that gave me a lot of meaning, a purpose beyond childcare, which I crave so much. Caring for kids is kind of a gift, but it's not fulfilling in a total way for me doing 1 thing I did before kids made life fuller because it kept alive the spirit of who I was and who I wanted to do and the dreams I hold as an individual separate from my family.
It wasn't a big class, but it was very cherished, it was the shining part of the week for me to look forward to during all the days and enjoy once a week. Now I'm starting to doubt I will have the courage to restart that, it took a lot to get started, and I don't know that I will really have the mental audacity left to rebuild from scratch. I really don't think I will.
Things are so different this year and last year. Last year I was with my husband, this year we are still married, but we live apart.
Last year we had the same home we had since I was pregnant with my daughter, now my husband is moving to his mom's garage and saving for a new home.
For our family things are very different, but not bad. I'm grateful we are doing reasonably well financially, emotionally, physically. It's still stressful not knowing when and if we won't need a mask to go out, if we will be quarantined again by the new president, if places will open, in our area many places look like they won't reopen… the restaurants, the food trucks, the golf course my dad built his house near to be able to use it all seem like they won't reopen.
The stress is about half as bad as the food shortages, but it's still at least twice what a normal year is like. I haven't been able to maintain all the good habits we once have, but I forgive myself that, I know I did my best considering the stress of being with two small kids during what was quite a tumultuous year.
It may sound the same as when I was examining myself before, but it isn't. Now I feel strong enough for some changes. The New Year has mentally refreshed me. So before I was taking stock of life to understand it, notice it, integrate it, but now I'm taking a look at what I have and where I am to get ready for changes.
I guess I buried last year in last year, I still bear some scars of it, but no more wounds.
I'm ready to go forward right now, maybe not without a break, or not forever, or not in a way I have a grand plan and concrete steps with real dates of when things can and may happen, but at least in some way I'm ready to go forward. There really is no rush, but I feel invigorated by the New Year.
Recently some black mold started growing on the ceiling of my shower, I grew up in a very moldy home. Mold is political. Some families clean it and other don't. Mine was a house where no one cleaned. So I had asthma and allergies and generally didn't like it, but I didn't know how to clean. Neither of my parents cleaned, I learned the first glimmer of how to do it at work when I was 14. A lady named Ida had rags, she bleached them everyday in a bowl, they looked so nice, they cleaned very well, it wasn't hard, but it was something never done in my house.
My mom didn't clean the counters but if she would have she would have used paper towels. She would leave most of the mess behind or smear it around or knock it from the top of the counter to the floor, if she even bothered.
My dad didn't clean much either, I don't know if he thought it was women's work or he just didn't want to, but he cleans the garage, cars and outside of the house with no problem and shies away from cleaning living spaces inside.
So it was filthy, hoarders filthy, and I suffered health problems absolutely related to it. When we cleaned up the apartment for my dad to move to a new house there were mice crushed to death in boxes, it was too dirty for us to have mice. There were cockroaches crawling under most large things. It's always been pretty far past a jacket on the edge of a sofa rather than hung up…
And I hated it, but nor did I know much about how to keep up with housework. It was quite awhile before I could contribute to "be the change you want to see".
Now my sister, my father and I keep a much cleaner home, same people, but better habits.
It's not perfect, but it's a crazy improvement. If we were capable of living in a normal range of dirty it makes me feel a bit sad and angry that we lived in extreme filth for so long.
I do more cleaning once a week and just a few basic things everyday and with the same three family member who none of which (including myself) like to clean it's regular/cluttered instead of condemn-able/extremely cluttered. The clutter is so much of a problem towards cleaning. If a counter has nothing on it I may clean it once a day, if I have to move a bunch of junk it will be once a week or less. I have limited time and energy so I'm not really going to move someone else's soy sauce bottle to clean a common space, I'm not. Baskets and "launch pads" are invaluable in that regard. My sister has a trey with "stuff" a fish tank with no fish, ext, so I can clean around the trey easily. I'm not going to be emotionally responsible for reminding or encouraging others to declutter, I just get there stuff respectfully out of the way of things that are communal such as cooking areas and worry about my own clutter.
I get really grumpy with a lot of clutter so I hate the Christmas gifts people send the kids that I'm sure are sent with good intentions, but rarely enhance my life quality and not even often the kids. We get duplicates balls when we have balls, cars when we have cars, dinos when we have dinos, we get things that are too advanced or don't suit their taste, we get a large volume of crap with a small amount of gems. Then I feel either guilty to throw out stuff and hateful to live with it, everyone I offer it too offers me twice as much, somewhere someone would like it, but it's so far that sending it costs more than buying new stuff, so eventually it becomes part of the pacific trash gyre after I've lived with it more than I wanted to until the guilt/hate ratio shifts far enough into hate. I've asked two years in a row for "no gifts" the amount my husband's family respects my boundaries is pretty damn low though, which is both irritating and empowering. It's irritating because they tell me they respect my wishes and then with their actions they don't. It's empowering because I don't have to treat them with consideration after being treated with disrespect (I still MAY, but I don't OWE them that).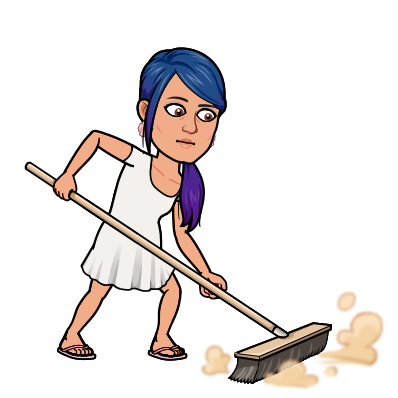 Went to the beach today, the kids swam in the ocean, my daughter without a floating vest, a year ago she couldn't swim and was a bit afraid, this year she is a strong swimmer and a happy one. There were sea turtles, including a little one, a rainbow, it was nice. I baked my first bread, it was thick and poor, but not burnt or horribly wrong. The kids made clay, they went to preschool on Zoom for the first time. It's a good life, but an exhausting one.
I restarted finding one bitmoji image for the day, it's a way to see how I feel, but it also becomes validating that it's okay to feel that way and helps me notice my feelings change, I don't always feel stuck, though I sometimes do.
So goodbye 2020 coronavirus and 2020 pandemic life, but hello 2021 with a full raging pandemic, rather than expect it will be over any day I'm going to assume it will mar most of the year, if not the whole year, and I'll be pleased to be wrong instead of sad and angry how long it lasted during 2020.
🐢