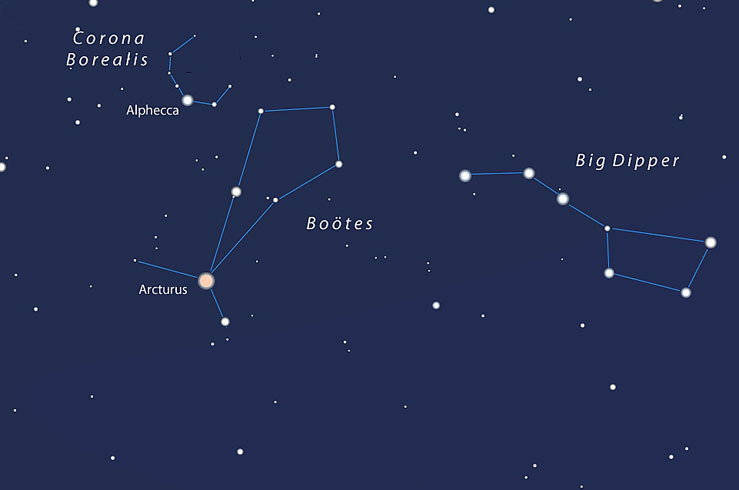 "Plants and birds come in their turn "as the resolving seasons rise, above the tree-tops star by star," and the steady advance of the changing season gets a definiteness and an interest to one otherwise impossible when he has learned to associate the visible signs of the progress of the year as they appear in the skies as well as on the earth. He will then associate the blooming of blood-root and the first warble of the bluebirds with the eastern splendor of Arcturus and the blooming of the maples."

– Martha Evens Martin
Using the Night Sky Map on timeanddate.com I can see Arcturus was out last night from sunset to 2:30 AM, the best time is given as 8:14 PM
When I look outside here in Hawaii, there are so many more stars than the charts, it's harder for me to find the constellations without a map, since there is not much black at all between the patterns.
The constellations typically are not real, as in they are not really grouped together, but just show together from here.
But even though the constellations are arbitrary, the stars are real and it's a good way to find them. I found Antares last night and then using the Night Sky Map saw Saturn passed nearly where it had been later in the night, so it would let me know how to look around, which wasn't very easy for me using the traditional star wheels.
Ever since picking up a used copy of "The Friendly Stars" I've been wanting to find Arcturus (4th brightest out of the 21st most bright from Earth).
In case you didn't guess when the blue birds stir, maple and blood-wort bloom, it is in… March (all Northern Hemisphere, Southern will be different or reversed).
"Arcturus, as if impelled by the onrush of spring, is returning four minutes earlier each evening until at the beginning of April (my regional spring) the star rises just as the sun sets. This is really the month of its greatest glory. It shines all through the evening in the eastern heavens, bright even when the moon is full, and, fitting in with all the other aspects of nature, gives a splendid close to the splendid days of late April."

– Martha Evens Martin
So in March I missed it rising, in April I missed it's glory, and in May I didn't notice it, but now at the end of June I will be able to catch it right after putting the kids to sleep… the star will rise in the same spot each day, but at different times, so that when it rises in the day I won't see it, but the next year it will be back in it's spot again. Maybe that is obvious to some readers, but it was new for me…
I will update this post upon seeing Arcturus. To be continued…
✨