"The greatest harm can result from the best intentions."

– Terry Goodkind
Ikagai = Helping Kids, Martial Arts, Fitness, Art, Music
VALUES REFLECTION JOURNAL:

SAT Faith Can I trust me? 🎵

SUN Unity, feeling comfortable as a family.

MON Proactivity is knowing what I want.

TUE Teamwork is finding how to work smarter in a group.

WED Connection, shareing my passion with the world and accepting others gifts.

THR Purpose know what I can do, what is most importat, where I stand.

FRI Creativity is thinking of new ways to do better.
---
HEALTH JOURNAL:
Social Health: Karate Classes = 5 Scouts Meetings Zoo = 3 Ocean = 2 Park = 1.
Going into the week, I've noticed going out once a week seems better than multiple times, perhaps it will take some time to get used to going out more often, other people are being a lot more social, for a long time when I was out people I didn't know didn't talk to me, now people are saying how they are or introducing themselves, inviting me places ext.
Physical Health: I'm so torn between doing Abs and Total Body or taking a break, because I want to finish the rock wall this weekend, so I'm not sure if I should use my strength for that or if by exercising I will be stronger…
Mental Health: I'm really enjoying writing, it helps me process life and settle my thoughts. I've gotten over being perfectionistic with the font, wondering if it will matter (I know it will matter to me, to me being more accountable with the week), I've gotten over being embarrassed about if I'm not good enough or wondering what I should be doing, now it's just an enjoyable hobby that builds my skills and makes me happy. Maybe someday something else, but today it's a relaxing activity.
---
LIFE JOURNAL:
Saturday: Last Sunday my dad left on a repair trip, my husband took me out for tacos for our 10 year anniversary, and I did some garden work. This week I really want to be consistent with the project, but there was a point where I realized it would be more work than I thought it would be and I was a bit overwhelmed and unsure of my own timeline. I got going on the rock wall, it's really soothing, but it also goes slow. I did one row across the bottom, and started a second row across the bottom for more stability, but I'm about 10 minutes away from finishing that, also been doing a second and third row and moving rocks along the line of the project. So finishing up the bottom, shoring up the first three levels, finishing the top level, still to go, then clearing and leveling the path on both sides of the wall, then digging up and spreading out the bamboo… even then there will be work to do, but that foundational work will make it easier to move, to see everything, to work around that whole area… I think so anyways.
Putting up the rock wall feels so slow, but I know I already moved a lot of rocks, yet it feels like it is taking forever… in the front garden it looks like things have gotten chaotic, yet I think it makes more sense to finish the wall before tidying up. Ordered some Chamomile, Lilly of the Valley and Irish Moss to try to seed something else after I weed… I think Irish moss would look nice on the rock wall on the front, Chamomile out by the street and Lilly of the Valley around the trees… another $52… on seeds, I hope some of them make it… to be honest my consistency watering isn't the best. Yet the hedges are doing well, so if I can just keep hope alive for a time, it may be enough…
Sunday: Last week started working on a new low rock wall in the garden. The rock wall was put there to keep our larger dog (now dead) inside, it didn't work, it looked unfinished and my sister got hurt falling from it… Since then I've learned a lot about the Lava Rocks, I've been digging them up and when I dig them up I see how they are supported from medium and small rocks, it's also part of the Shinto religion that a rock has a spirit, so it gets spiritual support from the rocks that balance it, it's good to have at least three rocks to balance each large rock and for the rocks to be partially buried at the bottom to tie them into the garden, however, I'm not super worried about if there are three or more, if I need more I use more. I like the rocks, I guess like some people like animals, because you can talk to them and they don't talk back. I don't like having an all black garden and our rocks are black, but I do like some black. Most people in the area do a garden that is extremely in the style of our area, I don't want that, I want to blend where we are with my ideal garden rather than just give in to the area. If the area was as it had been for a long time that may be different, but actually most the flowers that moved in (Himalayan ginger) were not always here, but came recently, so they aren't traditional but rather "invasive" so if I removed them and started fresh it isn't hurting native wildlife or an ancient ecosystem. Woke up wanting to work on the wall, but I went to the hot springs because it was rainy.
Monday: Last week my husband has started work in this state for the first time, this week it was a productive school day, bundling Spanish, English, and Theatre together. We had fun in the front garden, but in the back garden less so, because my son was throwing things in the pond again, either I'll have to keep him away or tether him to me, otherwise he just won't stop throwing things in there. I was gardening the flower garden, which was fine, then the other side of the front, which was quite overgrown, then the back, it's kind of overwhelming to see so much that needs to be done during the same day. Maybe I will have to leash my son to me when we are near the pond… I didn't clean the whole house, but I did clean the office/school area, that felt nice, I also did a ton of laundry and the normal infinite amount of dishes… My daughter wants to be in the theatre with her best friend, before she didn't want to, but now she does want to, I think she would like it a lot as an extrovert. My daughter started using a smart watch, it was fun watching her tell me what the weather would be tomorrow and then seeing how she slept.
Tuesday: Last week we finished Social Emotional Learning class. I've noticed I've been really short-tempered with my kids and for a long time I was too tired to be able to crawl out of that hole or lie to myself that I would, but maybe now I can. Sometimes they don't warrant me being kind and patient, like one hitting another in the face with something hard ext, but sometimes they do, I've got to try to parse the difference better. I know I don't have infinite patience to listen to their stories and watch their dances ext, but I have some, maybe if I was smarter with how I use it I could make it go as far as possible. I'm really enjoying gardening and teaching the kids with my dad away on vacation, he criticizes me enough that just seeing him makes me tense, my husband just started working again so I think we will get our own place soon enough, but sometimes it makes me sad that my dad and I don't have an easy and fun relationship, it's not the worst ever, but it's grating for me, on his part he doesn't say if he is disappointed, frustrated or depressed, but it comes off as a miasma of unhappiness that gets old to be around when you have two young kids who you are trying to produce an uplifting, inspiring, life-affirming environment for… I see each day of life as a gift, I'm trying to enjoy mine and teach my kids not to let life go by without noticing the good and making time for things they like to do, my dad looks like a fountain of unhappiness most of the time with some grumpiness and abrasiveness mixed in for variety. I don't know if our relationship is unpleasant vs toxic, but I guess I don't want to look too hard because I don't want to know about an extra problem right now. For my part, I think all I can do is determine that I'll live the best life I can and whatever challenges are presented I'll find a way through that demotivation to be the best myself I can be.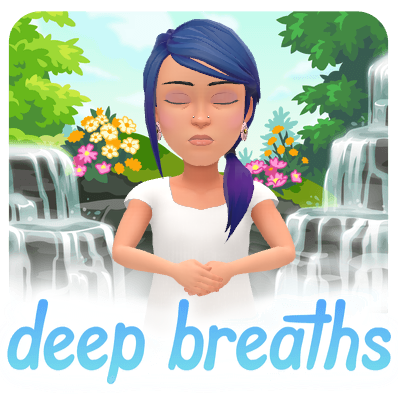 So I got a new book about boundaries, looking forward to that… without writing this I wouldn't have really though twice about needing to work on that even more. My daughter started her first audible book Zero G, that was cool, she just wasn't ready for that before. She is 6 now, I would imagine it would be easy to start listening to books, but her mind gets so overwhelmed. We did a lot of Health Class and also Theme Hospital to catch up the class with the other classes that started much earlier. At the end of the day we did Chemistry nomenclature, which is hard, but it went okay, what makes it hard is that there are ions, covalent compounds, and acids, so it's just a lot of layers at the same time instead of bit by bit. I like it though, we all have bodies, all our food has chemicals and we already learned the Elements so it's like learning the next step of what we know, even though it's really hard, it's also really relevant. My son is painting a lot and singing a lot, I'm happy to see him enjoy himself. He started painting more and ripping the paper, so I finally decided to get some canvas for him just a $15 pack, but it feels like a big transition for some reason.
Wednesday: Last week we went to the beach/karate/drama/lunch/swimming and I learned אבג. This week we got the wifi hot spot charged so I can bring a computer to the beach, that may be fun. Woke up early so I started listening to Boundaries, Updated and Expanded Edition: When to Say Yes, How to Say No to Take Control of Your Life. In general, the book says, responsible "to others" but "for ourselves". The beach day was kind of epic, martial arts good turn out, good progress, I always like smiles and laughter, drama after looked really fun, but I couldn't watch because I was teaching music, I was able to introduce Prodigy Music Lessons to that child and she looks like she is just going to love it and her mother followed up about home practice, so that was unexpected but nice. We have volunteers to run dance next week and math and science. We are working on a science challenge. I wasn't tired after, but rather invigorated, I felt fully alive and really happy to be alive, I felt like I was in balance between being myself and giving my kids good experiences, between taking moments for myself to enjoy life and teaching a few things that I could, it felt very "wa" very in harmony with the universe.
Thursday: Last week forgot to do Mario is Missing for Social Science but covered Sacagawea, this week did an agriculture exam and had friends over who played outside with us, it was great. They said my rock wall was "beautiful", sometimes in life you meet people who are so nice they almost make you hate yourself for being so bitter and jaded and short-tempered, yet instead of hate you just become "Ernie and Burt" friends, I love those times. Life alone is like a bicycle, but life with friends is like a tricycle, it's easier, it's more balanced, it's more limiting too in some ways, groups move slower, take longer, have to compromise, but it can feel very soothing to know you are not the only one struggling through half or all the days of the week. In Japanese "thank you" means "life is hard", but it's not sarcastic, in Japan the volcano erupts, it destroys whole cities, tsunamis come, they destroy whole cities, fires burn whole cities, things are better than before, but modern time has brought atomic bombs that destroy whole cities and the nuclear meltdown… so are they better? Or just different? Japan is seen as privileged and advanced, but gender equality isn't necessarily in place, racial equality doesn't exist strongly, there is a daily mundane struggle for finances and a decent life as well as a broader sense that even though technology is so advanced it can be a double-edged sword capable of advanced disaster and devastation, it's kind of bred a race of fatalist, of which I am a part. When you imagine your life as a bubble it might not seem hard, but over a life time there tend to be huge disasters, for my grandmother it was her son drowning and then raising his two kids, for me so far it was losing a baby, we all have hard lives at times, so it makes sense to help one another when we can in what way we can.
"Do not pray for an easy life, pray for the strength to endure a difficult one."

– Bruce Lee
I guess I've always wanted to find that place where I can help, but not in a way that kills me or leaves me drained and now that I've found it I'm really happy on the inside, I don't smile a lot so I don't know if people know. I feel like it takes a few seconds to smile and life doesn't leave many gaps of a few seconds during the day when people are around, but on the inside I'm smiling more.
Friday: Last week we did computer coding, but I forgot about robot time. This week, I'm so excited to plant some narcissus bulbs, as well as do more work on the wall and dig up the rest of the bamboo… Digging the bamboo up with a spade shovel went well, my friend told me to dig it up then split it, I was trying to split it and dig it up one by one… which wasn't going well, it's nice to have friends. I remember when we bought that bamboo, my husband bought it for me, I was so full of hope to be growing a beautiful garden and veggies and bamboo for building and papaya trees, I had no idea how long it would take to learn the weather, better protect the plants, become consistent with watering ext. Was that four years ago already? It took a long time to move, then losing my first crop of bamboo discouraged me, then starting my daughter on a SPD treatment was so draining everything went to seed, then her starting school, coming back to home school, then a huge snow storm tore up a lot of the property, so… at many times I wanted to force myself to be consistent in the garden, but I just couldn't… but the spring comes again and again I want to make my own mini botanical garden/sanctuary from the world/community garden.
---
FOCUS GOAL:
Finish the front garden!
> Butterfly Garden Project: Looking at the front garden plan trying to break down steps, 1. building the wall by the hedges to move the rock pile in the way of the bamboo as well as to define the front area. 2. planting the bamboo behind the rock wall 3. defining the area for the bamboo to grow into. 3. weeding the garden beds/bamboo bed. 4. putting down weed cloth and securing it in the paths. 5. gathering and placing stone in the pathway. 6. planning a near by place for compost. 7. trench for electrical. 8. placing fountain pot. 9. Fill and assemble fountain. 10. Adjusting fountain possible water plants… find a place to return outdoor toys…
> Front Garden: Level slightly with cuttings, mulch a path on side of wall to help hedges grow in, perhaps sun flowers and watermelon?
OTHER GOALS:
Fix the small pond – Get more organized – Live life to the fullest
🎁